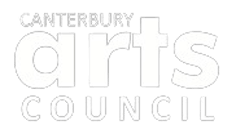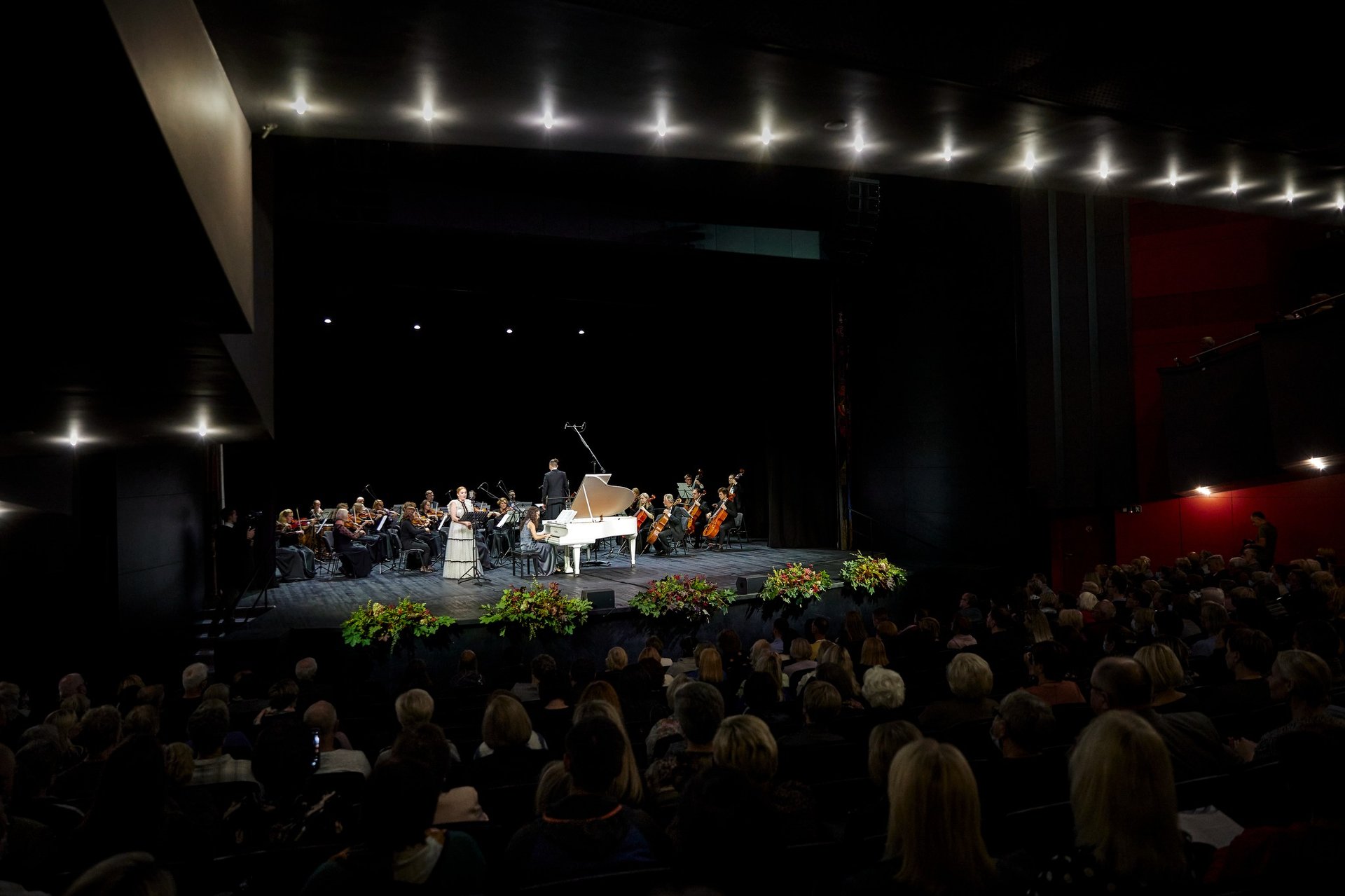 The third season of the international classical music festival "Kultūros Savaitė" will resonate in Marijampole, Lithuania.
From 8 to 23 September, the international classical music festival "Culture Week" (Kultūros savaitė), organised by "Marijampole Philharmonic" (Marijampoles Filharmonija), returns to Marijampole and its region. It features a unique programme with iconic national and international performers. This year, the festival promises a rich programme of 7 events, abundant in classical music and other forms of artistic expression. All "Culture Week" festival events are free of charge.
"This year, the festival will showcase distinct musical elements and compositions from countries including France, Spain, Italy, and Germany, while also offering a unique fusion of music, cinematography, and art experiences," states Marius Reklaitis, the CEO and conductor of Marijampoles Filharmonija.
In collaboration with
Canterbury Arts Council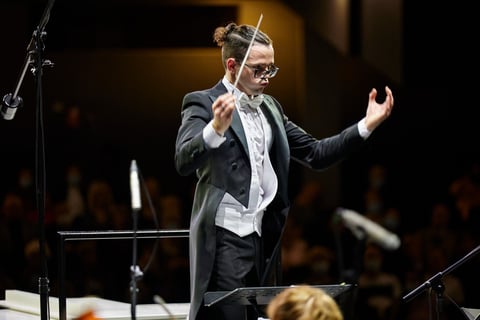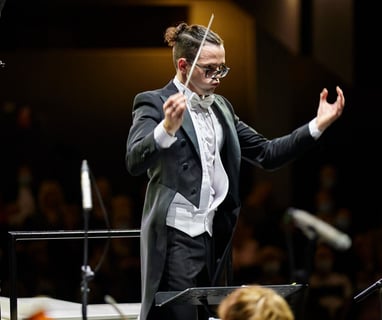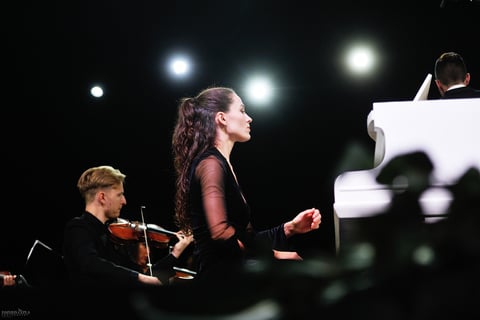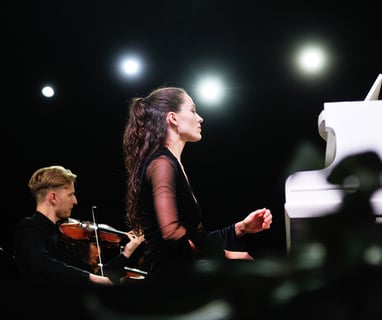 CEO of Marijampolės Filharmonija, Marius Reklaitis
Artistic Director of the festival, Kamilė Zaveckaitė
The artistic director and pianist, Kamile Zaveckaite is delighted: "Although it's only the third season of the festival, it rapidly attracts increasing interest both nationally and internationally. This year, Marijampole Philharmonic has established international collaborations with festivals such as: "Moldo Crescendo" (Moldova) and "Grič Evenings" (Croatia). We are eager to hear the guests from these festivals in our hometown – Marijampole!"
The festival will commence on 8 September at 18.00, showcasing an interactive exhibition, "In the Land of Music and Colours", featuring select works by Ausrine Dubauskiene. Visitors will have a chance to explore visualisations from the inaugural and subsequent seasons, crafted for past opening concerts, on display throughout the festival at the Marijampole Culture Centre.
On 9 September at 18.00, in the Marijampole Evangelical Lutheran Church, the festival's opening concert "avec amour de France" will take place. The concert will invite the audience to immerse themselves in the exquisite lyricism of France. For the first time in Lithuania, the Zagreb String Quartet (Croatia) will perform together with the pianist, Kamile Zaveckaite and opera singer, Laura Latvaityte-Zaman.
On 13 September, the festival will move to Sasnava and in the church of the Holy Virgin Mary at 19.00, invites you to enjoy a Spanish music evening – "cuerdas españolas" with the internationally recognised guitarist, Saulius S. Lipcius and pianist, Kamile Zaveckaite.
On 15 September, the festival will travel to the St. Ludwik Church in Liudvinavas, where at 18.00 the "musica sacra italiana" will resonate. A special concert will present Italian music masterpieces performed by the St. Christopher Chamber Orchestra (conductor Marius Reklaitis), Ceslovas Sasnauskas Chamber Choir, Laura Latvaityte-Zaman, and the unique voice owner, countertenor, Viktoras Gerasimovas.
On 17 September at 19.00, the audience in Marijampole will be enthralled by the rare tandem of Balys Vaitkus on the organ and Vaiva Storastiene on the harpsichord, performing the "deutscher Dialog" concert. This captivating duo will grace the Basilica of St. Archangel Michael in Marijampole.
A unique synthesis of music and cinematography will debut for the first time in Marijampole on 20 September at 18.00. The festival's new partner, "Spindulys" cinema theatre, will invite you to a silent film screening of Ladislas Starevich's – "Fetiche". The film will be virtuosically accompanied by Viktoras Orestas Vagusevicius on a piano.
On 21-22 September, open vocal, solo piano, and chamber music masterclasses will take place at St. Cecilia's Gymnasium and Marijampole Art School, led by soprano L. Latvaityte-Zaman and pianists K. Zaveckaite and M. Lazar.
The festival will culminate with the final GALA concert, celebrating the one-year anniversary of the "Marijampole Philharmonic" established Suduva Youth Symphony Orchestra. On 23 September, at 18.00 in the Marijampole Culture Centre, a diverse symphonic music programme will be performed, conducted by maestro Marius Reklaitis. We will also meet a guest from Moldova, Marcel Lazar, who will present a whimsical programme and will perform a piano duet with Kamile Zaveckaite.
"Young talents represent our nation's bright future. The performances by the Suduva Youth Symphony Orchestra encapsulate the festival's core vision: to amplify and hone the innate creativity of emerging artists. We're dedicated to fostering their growth, instilling them with the confidence and drive to navigate the cultural landscape. Our aspiration is to not only influence the artistic milieu in Suduva but to inspire innovation across Lithuania. We're thrilled to unite under this shared vision with all our audience members, creating a collaborative space of growth. "Culture Week" champions the cultural vanguard, ensuring every event is a true festivity for music enthusiasts", convey the festival's organisers.
We remind you that all "Culture Week" festival events are free!
For more information – visit the Marijampoles Filharmonija Facebook page and the website www.marijampolesfilharmonija.l